Welcome to Wellspring Veterinary Services
Wellspring Veterinary Services is a mobile veterinary practice serving the San Antonio, Austin, and College Station areas.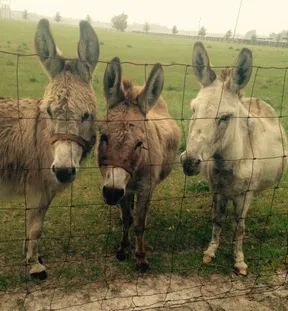 We specialize in providing care to animal companions who have had limited or poor responses to conventional medicine or surgery. At Wellspring Veterinary Services, we can treat your pet with a number of alternative services: acupuncture, chiropractic, herbal medicine, TCVM (Traditional Chinese Veterinary Medicine), and other related therapies for illnesses and injuries.
Our veterinarian, Dr. Patricia S. Graham, is a Texas licensed veterinarian with additional comprehensive training, certification, and practice in various holistic medical therapies.
Home, farm, and clinic calls are made by appointment. Referral from your primary care or specialty care veterinarian is encouraged. Please call Dr. Graham for any inquiries you may have about the health of your animal companions.
We are happy to offer a number of resources that enable you to learn about how to take better care of your pets. Please feel free to browse our site, particularly the informational articles. The best veterinary care for animals is ongoing nutrition and problem prevention, so becoming knowledgeable about preventative pet care is essential to the ongoing success of your animal's health. If you have any questions, call (210) 387-8389 or email us and we'll promptly get back to you. We also welcome you to subscribe to our newsletter, which is created especially for Floresville pet owners.
At Wellspring Veterinary Services, we treat your pets like the valued family members they are.
Dr. Patricia S. Graham
Floresville Veterinarian | Wellspring Veterinary Services | (210) 387-8389
Floresville, TX 78114